Hot sausage and mustard. While we're in the mood, cold jelly and custard (5 pts for anyone who can name the musical first)
When Won and I married in 1999 (geez that sounds so last century!!), I had no idea he was so domestically accomplished. Like many other couples, we fell into traditional gender roles. I did most of the shopping, meal planning and cooking, he handled the finances and lawn maintenance (meaning he paid the gardener), but we generally shared other household chores like cleaning and laundry. Even though I typically cooked, Won was the pit master and always did the grilling. This remained the norm until I accepted a position with Johnson & Johnson which required a move from California to New Jersey in February of 2012. Even though this presented a significant professional challenge for Won, he was all for it. The issue was that he was a Certified Public Accountant who was licensed to practice in California, but not in New Jersey.
We discussed at length whether or not it was worth the time, money, and effort for him to get certified to practice in New Jersey. Each state has their own requirements so its a pain in the bleep. Won had always traded stocks, really enjoyed it, and was quite successful at it, but working full time took most of his attention. If he didn't work he could focus on our financial portfolio full time. Ultimately, we agreed that Won would retire and since I was the only one working, he would assume all the domestic responsibilities, including the meal planning, shopping, and cooking. Won will even tell you, it was the best decision we ever made.
Fast forward to 2020. Now I'm retired and we live in Portugal. After we arrived in mid-January, we discussed re-balancing the meal planning and cooking responsibilities, but our lives were still in a state of flux and Won was doing all of the driving, which meant he was the one going to the grocery store. At this point we are finally settled, but now we are dealing with the novel coronavirus and Won is worried about me being exposed, so he decided to keep those responsibilities for the foreseeable future. In short, I haven't had to do much of the cooking, but, Won likes cooking so we're both content with the current arrangement. Of course, I do all the post meal clean up, which I actually prefer because then I know the kitchen will be put back into a pristine condition and the dishwasher will be properly and optimally loaded.
When it comes to cooking and nearly everything else, Won can be pretty adventuresome and experimental (refer to my post called Brave or Bonkers). He'll eat practically anything and thinks nothing of putting odd food and flavor pairings together. (This is when I tell him I'm not hungry and grab a peanut butter sandwich for dinner.) All kidding aside, the majority of the time he does a terrific job. Recently, we met with a nutritionist who put Won, and me by association, on a meal plan so that we can lose some weight and ensure we remain healthy. A part of the meal plan includes the recommendation that we eat more fish and chicken. Not a problem; we both enjoy fish and chicken.
Not long ago, Won came home from doing the shopping and mentioned that he had bought fish for dinner. Good, I thought, I'm sure it will be wonderful. Later that evening I heard Won in the kitchen swearing like a sailor. I wandered in to find him up to his elbows descaling and gutting a whole fish in the kitchen sink while another awaited its fate on the counter!!!
I was flabbergasted. I couldn't help myself, I had to ask… Did you know they were whole fish? No. Did you think to look at the package before you put it in the cart? No. What kind of fish is it? No idea. Do you know how to descale and gut a fish? Ummm….kinda. Would you prefer to throw them out and order from UberEats? No!
Okey dokey. I decided the best way I could help was to document the experience. Not sure how much he appreciated this, but I pressed on.
There were fish scales EVERYWHERE. Ever the intrepid cook, he kept at it. About 45 minutes later, the fish had been descaled, seasoned, and ready to pop in the oven.
I give Won full marks for following through, even though he ended up with a couple of bandaged fingers. The fish came out flaky, moist, tender and really tasty! It's too bad we had no idea what kind of fish it was.
Last night, we had fish again and I can assure you they had already been descaled and gutted prior to purchase (but they still came with the head and tail). As we were chatting over dinner, Won mentioned that it was nice to be eating so healthy and I readily agreed.
However….every once in awhile we both have the odd craving for a hamburger and fries. Of course, there are the ubiquitous Burger King and McDonald's here and, out of extreme necessity on two separate occasions in the first few weeks, we ate once at a Burger King and once at a McDonald's. Trust me, it was a last resort. Unfortunately, nothing tastes the same here so the experiences were less than enjoyable; even the fries were a disappointment.
We dream of burgers and fries from In and Out, Shake Shack, Five Guys, Smashburger, even home made! It's hard to find a really good burger here (but, to be fair, we haven't made a concerted effort). I prefer my burger with good old-fashioned French's yellow mustard, which is becoming more and more rare in burger joints these days, it always seems to be spicy brown mustard. In Portugal the mustard is a bit odd. The texture and look is akin to a translucent yellow mayonnaise. Which kinda kills the experience for me. When we were here last July we found a jam-packed place in the Chiado neighborhood of Lisbon that specialized in grilled burgers. They did a pretty good job except for that odd mustard thing.
Blast! Now I'm thinking obsessively about burgers with French's yellow mustard…groan.
Our other new food passion is charcoal grilled chicken. Ahhh, you're thinking, what's so special about charcoal grilled chicken? Anyone can get a grilled chicken. Oh, but I say, you're wrong! We're not sure exactly how they do it here, but whatever they do, it is an art form. There are a lot of places that grill chickens called Churrasqueiras (the Portuguese word for barbecue). And, while I'm providing Portuguese language lessons, the Portuguese word for chicken is frango.
There is a well-known restaurant in downtown Cascais called Jardim dos Frangos. Literally translated it means "Garden of Chickens." The awful, weird name aside, they produce exceptional charcoal grilled chicken! The image below is from their takeout store which Won and I frequent.
When you place an order at Jardim dos Frangos you are asked if you want Piri Piri (a Portuguese classic spicy sauce) and/or to have the chicken bathed in melted butter. I'm not a fan of spicy food, but Won loves it. We'll often order 2 chickens (one spicy and one regular, no butter). The person who pulls them off the grill or from one of the many warming drawers underneath, will immediately cut each chicken into quarters with really sharp shears and wrap them up in paper. They are juicy, tasty, and finger-lickin' good!
The first time I ordered there, I also purchased two orders of fries. I was unprepared for the enormous amount they provided! There were so many they came in their own full bag! We never finished them and ended up throwing out most about a week later. The last time I ordered fries was when Kate and Liam came to visit (refer to "Our First Visitors!"). This time I bought one order of fries for the four of us to share and we STILL had leftovers. Sheesh. Won can't wait for summer when they expand their menu to include sardines and other fish.
Yuck, sardines, you might say. Not at all! These are not the typical sardines you buy at the store where thousands are packed into a tiny little tin with oil. No. These are fresh from the ocean and significantly bigger! We learned this when we were here for the first time last July. We had lunch at a restaurant called D'Uportinho which is perched right on the water. To get there, we had to hike along a stretch of beach called Praia do Portinho in Arrábida. As you can see in the photos below, Won gorged himself on fresh, grilled sardines.
We are also enjoying all manner of other seafood. In early March before the stay-at-home orders were given, we took Sweet Pea to a new groomer who lives about an hour north. After her grooming appointment we drove to São Martinho do Porto. We learned about São Martinho do Porto via YouTube months ago. The geography of this place is stunning. I've grabbed a picture from the Internet of what it looks like from the air so you can see the shape (the other pictures are my own).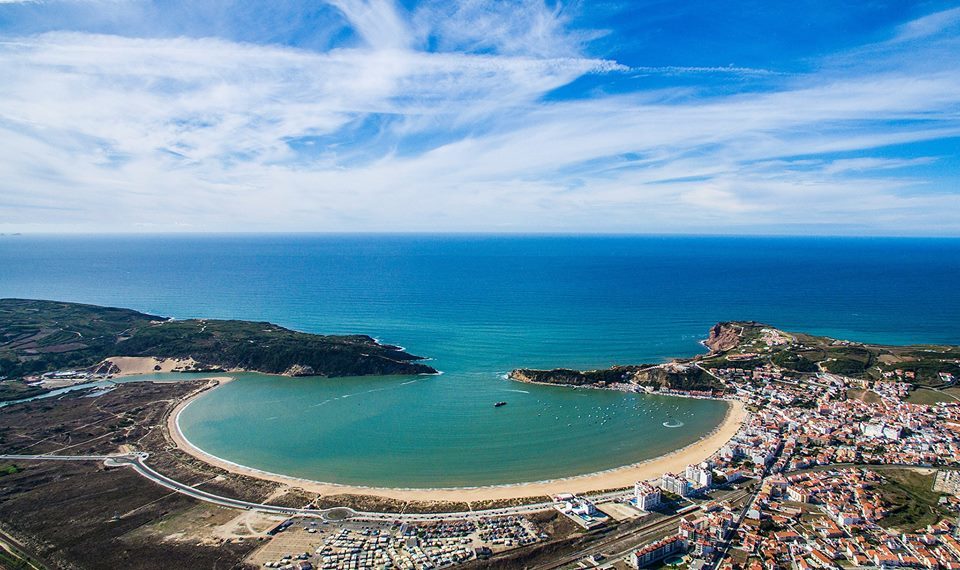 While there, we grabbed lunch at Oceano Caffé and ordered arroz de marisco a really yummy seafood dish over rice. Seafood is a main food staple in Portugal and they do it very well.
It's pretty obvious that we are novices at the food scene right now and are losing time due to the pandemic, but we are excited to get back out there when its safe to do so and taste all the great food Portugal has to offer.
Not only are we on a cultural, geographic, and historical adventure, we are on a food adventure too! Hopefully, you will be able to join in on the fun when travel is once again safe to undertake.
And before I sign off, I am dedicating this post to my father who passed away two years ago today. David Allen Thomas, Sr., Ret. USAF. He was whip-smart with a goofy sense of humor. He was sweetly lovable and unswerving in his loyalty to family and friends. He adored his family and loved to fish, cook and eat – in that order. I miss you every single day, Dad.
From Portugal with love,
Beth